Thank you for purchasing our Jevelin WordPress theme.
You have arrived at the right place to get started with your brand-new theme.
License
ThemeForest regular theme license is meant to be activated for one single website at a time. A license can be moved from one website to another website. Licenses can be also used in the WordPress multisite setup but will be valid only for one of the chosen multisite sites.
Installation
First of all, you will need a working WordPress installation. To install WordPress CMS, please see the WordPress Codex. If you are new to WordPress, the following links can help later on the road:
Server requirements
Our theme core functionality requires at least WordPress 5.2 and PHP 5.6.20. However, newer WordPress and PHP versions are recommended to deliver the best results. For example – the newer PHP versions offer significant page loading speed improvements.
Theme Installation Video Tutorial
The easiest way to install Jevelin theme is by following this video tutorial below.
Theme Installation via WordPress Dashboard
This is the easiest and most recommended way to install Jevelin theme.
Follow the steps below to install:
Step 1 – Log in to your WordPress Installation
Step 2 – Navigate to Appearance > Themes
Step 3 – Click on Add New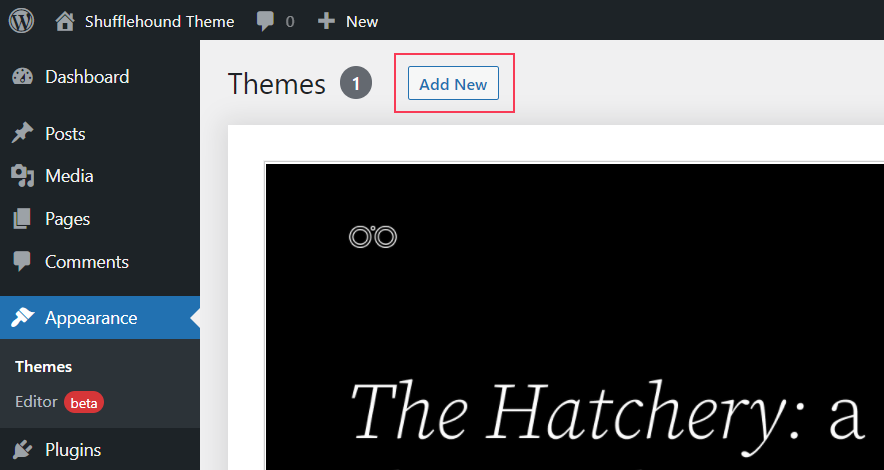 Step 4 – Click on Upload Theme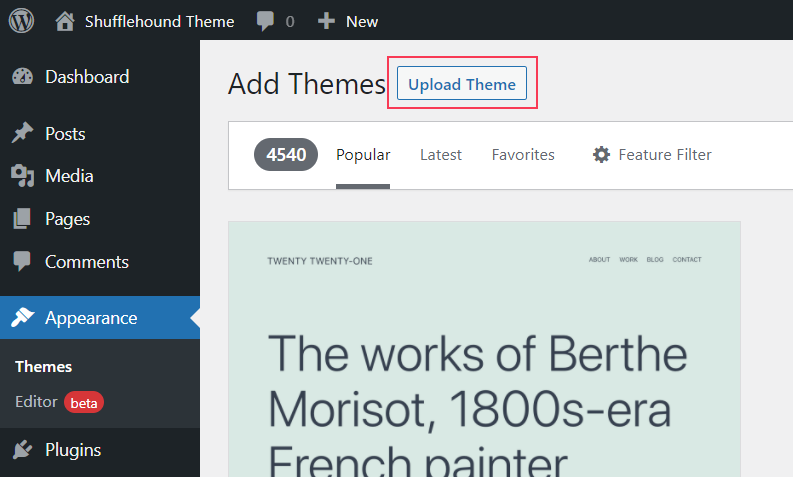 Step 5 – Click on Choose File, select "Jevelin.zip" and click Install Now

Step 6 – When the upload is finished, click on Jevelin theme to activate
Theme Installation via FTP
If you want to upload Jevelin theme through an FTP client, please follow the following steps:
Step 1 – Log in to your hosting server via FTP client (hosting web client or software like WinSCP or FileZilla)
Step 2 – Navigate to the folder /wp-content/themes
Step 3 – Upload "jevelin.zip" extracted content
Step 4 – Open your browser and log in to your WordPress Installation
Step 5 – Navigate to Appearance > Themes
Step 6 – Click on Jevelin theme to activate
License Activation
After the theme is installed you will need to activate the theme license by using your ThemeForest purchase code.
To activate your theme, follow the steps below: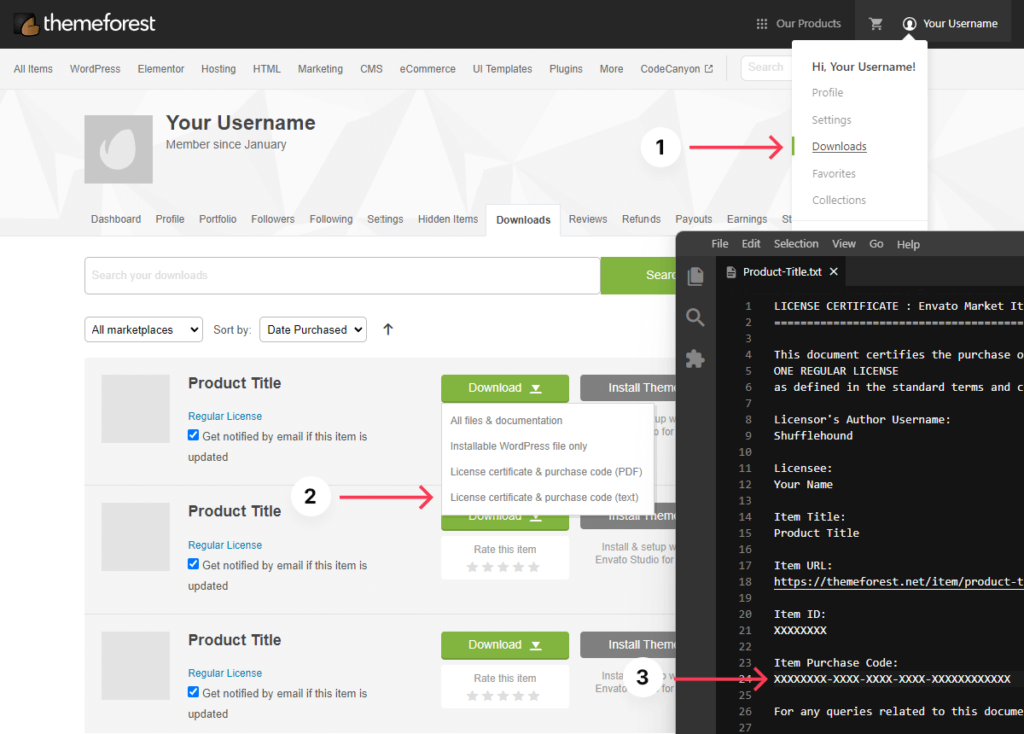 Step 1 – To get the purchase code go to your ThemeForest downloads page
Step 2 – Find Jevelin WordPress Theme in your downloads list
Step 3 – Click on the Download button and select License certificate & purchase code (text)
Step 4 – Locate the downloaded text file and open it in a text editor, such as Notepad
Step 5 – Find the Item purchase code and copy it
Step 6 – Now go back to the dashboard of your website and click on the word here in your theme notice
Step 7 – Paste your purchase code in the form and press Activate
Step 8 – The theme should be successfully activated
Plugin Installation
After the theme is activated you will need to install the required plugins for the theme to function properly. To install these plugins, please follow these steps:
Step 1 – Open Jevelin dashboard and click on Install Plugins
Step 2 – Select all the required plugins as well as some optional ones, such as One Click Demo Import (needed for demo content installation), WooCommerce (required if you plan to include a shop in your website), Slider Revolution (allows you to create advanced slides) and Contact Form 7 (needed to create contact forms)
Step 3 – Click on Bulk Actions, choose Install, and click on Apply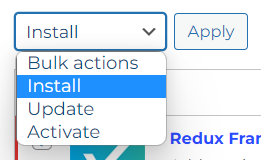 Step 4 – The plugins have finished installing once you see All installations and activations have been completed
Demo Content Installation
After the theme installation, activation, and plugin installation – it is finally time to install some demo content.
The installation is very simple – you just need to figure out which demo content you would like to install. For the best experience, it is recommended that your WordPress installation is fresh with little to no content. But you can definitely install demo content if you already have added some content to your website. Such a scenario won't replace or delete your existing content. Instead, some media might be skipped if it matches the one being installed.
To import demo content, please follow these steps:
Step 1 – Navigate to Jevelin dashboard and click on Import Demo
Step 2 – Choose the demo you would like to import and click Import Demo
Step 3 – Make sure that the required plugins are already installed, or check the ones missing. Then click on Continue & Import. Some content may be skipped if the required plugins are not installed. For example, forms will be skipped if Contact Form 7 isn't installed and sliders will be skipped if Slider Revolution isn't installed
Step 4 – Wait for the demo content to import. It could take a few minutes depending on your server resources and demo content size
Step 5 – The theme installation is complete when you see the Import Complete window appear. You can see the results by clicking on Visit Site
FAQ
Can I use my license on several domains/websites?
No. It is important to understand that premium services like automatic theme updates, demo website content, template library, and our customer support are not included with the GPL license. Thus, purchasing a license only grants you the right to use it on one single domain.
Can my license key be transferred from one website to another?
Yes. You can transfer the license key by first removing it from the old website and then entering it into the new website.